Making art is messy, yo. And that is abundantly on display here at our house.
A tarp, a table, an easel, a cart . . .
There's a canvas tarp folded in half and spread beneath my entire working space. A small folding sewing table that I inherited from my grandmother. It is covered with newspaper, pencils, pens, brushes, some in-process works and more. A lovely new easel that my husband bought me to support me in my work, literally. A teal IKEA cart that holds some of my supplies - stamping stuff on the bottom tier, oil and chalk pastels plus bubble wrap in the middle, gel mediums and other items up top.
The chair is one I bought at a flea market 25 years ago for $1. There are stacks of canvases in various states of completion leaning against furniture and walls. Boxes full of mark-making tools (foam brushes, rollers, stencils and more), paints (Golden paints in bottles and tubes in one, FW Daler & Rowney acrylic inks and Liquitex soft body acrylics in another). A rattan trunk full of papers for collage. A basket of ribbons for "decorative trim". All of it quite literally in the middle of the living room, as you can see.
I can't work whenever I want
You can see last week's Eagles-Giants game on the screen in the background. I'm an Eagles fan, but my husband is a much bigger one. And since he tolerates my mess, I don't work when they play, because I'd be blocking his view of the screen, and that would be unfair.
Buddha reminds me to keep calm. You can see him on the floor at the left of the above photo, but here is what he looks like just now. This colorful canvas whispered that it wanted a face, and it turned out it wanted a Buddha face. It is not *quite* done yet, but it's getting very close. And it is a nice reminded to keep calm while I carry on making my artwork.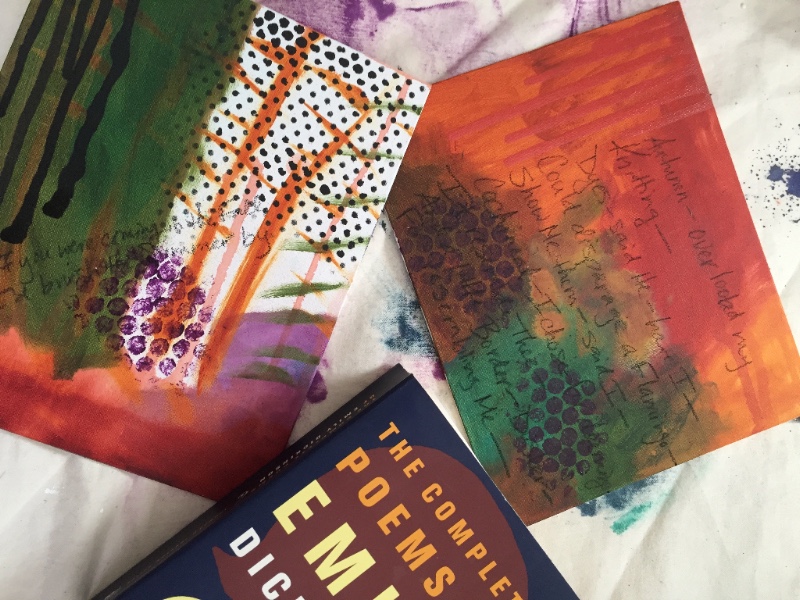 What I just started working on is a new series of autumn-themed pieces that include layers written in pencil, which are from the poems of Emily Dickinson. "If you were coming in the fall" and "Autumn—overlooked my knitting—".